Cat faces having leg amputated after air gun attack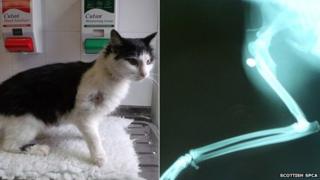 A cat is to have its right leg amputated after the limb was shattered by a pellet fired from an air gun.
The animal was found with its leg bleeding in the village of Hurlford, near Kilmarnock, on 18 September.
It was taken to a vet clinic where an airgun pellet was found in its leg. X-rays revealed the limb was shattered and will need to be amputated.
The Scottish SPCA is trying to trace the cat's owner and has appealed for information about the attack.
The black and white female cat has been named Poppy and is being cared for at the animal charity's rescue and re-homing centre at Cardonald, Glasgow.
'Malicious attack'
Animal rescue officer Alistair Hill said: "Poppy had been seen visiting gardens in the area over the past 10 days or so and it seems that she has now been cruelly targeted in a malicious airgun attack.
"As well as appealing for any information on this incident we're also trying to trace this poor cat's owner.
"She's not micro-chipped, nor was she wearing a collar, so we're hoping someone out there will recognise her.
"This isn't the first time we've been called to investigate cat-related cruelty in Hurlford. In December 2008 we investigated two cat deaths as a result of carborfuran poisoning.
"Unfortunately the source was never found and the incidents ceased after we publicised the matter, but it now seems that cats are once again the subject of animal abuse.
"This is yet another disturbing example of a defenceless creature being maimed as a result of airgun misuse."