Watling Street 'toxic homes' claims: Council dropped from legal action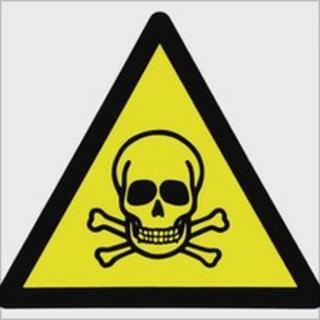 North Lanarkshire Council is no longer being pursued for compensation over claims homes were built on toxic land.
The authority was dropped from the legal action by Collins Solicitors, which is pursuing 42 claims on behalf of 78 residents who live on or near the Watling Street estate in Motherwell.
Residents claim the site was never properly decontaminated and is responsible for some health complaints.
Two other organisations are still being pursued for compensation.
Since new housing was built in the 1990s around the Watling Street site, some local people have blamed their illnesses on possible contaminated land.
'Harmful chemicals'
Collins Solicitors, which represents the families, had been in dispute with the council over the issue.
In October 2010, the council told residents it had found traces of trichloroethylene (TCE) - a potentially harmful chemical - in open ground close to homes in Forum Place, Romulus Court, Empire Way and Tiber Avenue.
Collins Solicitors later said tests it commissioned found the presence of potentially harmful chemicals which "far exceed stipulated safe levels".
It said analysis of air samples, taken from 20 properties in and around Forum Place, revealed a significant number of chlorinated compounds and petroleum products (in particular Toluene) in the properties' indoor air.
The council and Collins carried out further tests, after which the authority said there was "no evidence to date to suggest significant health risks" on the estate.
Collins launched legal action on behalf of residents last year.
Senior partner Des Collins said: "We have agreed to release North Lanarkshire Council from these proceedings, although we know we have a strong case against them."
The solicitor said the case, with the council involved, could have taken five years and ended up before the Supreme Court.
'Adequate cases'
"The residents have perfectly adequate cases against the other defenders, the resolution of which would have been delayed pending any Supreme Court application," he said.
"This would have been patently unjust. It is against this background only that we have decided not to pursue North Lanarkshire Council further."
Mr Collins added: "We are confident that (property company) City Link Development Company Ltd and (engineers) Scott Wilson (Scotland) Ltd will ultimately be held responsible for having failed to ensure the redevelopment of the Watling Street site in the 1990s and that this has resulted in land which is not suitable or safe for residential use."
The two companies are both contesting the claim.
A spokesman for City Link said: "We cannot understand why we are involved in court proceedings on this matter.
"We bought a site from Scottish Enterprise (Lanarkshire Development Agency) which was certified as being decontaminated and suitable for residential use.
"No evidence to the contrary has ever been produced by the claimants and, indeed, all testing carried out by North Lanarkshire Council has shown there is no significant health risks associated with this site.
"This case has now been before the courts for almost a year and no evidence of health risk to tenants has yet been produced."
He added: "City Link will continue to vigorously contest these claims."
Legal costs
BBC Scotland understands that North Lanarkshire Council spent about £325,000 carrying out testing at the Watling Street site and at least another £35,000 on legal costs arising from the court action.
A spokesman for the authority said: "We are pleased the 78 residents, acting on the advice of their legal representatives, have agreed to drop us from the action. Each side will be liable for its own legal costs to date.
"Since early 2010 the council has fulfilled its statutory obligations in regard to investigating allegations of contamination at the site and we will continue to do so.
"We instigated, through our consultants, a robust test procedure lasting many months and costing hundreds of thousands of pounds. This included bore holes, ground testing in gardens and open spaces as well as indoors.
"All of these reports are available to the public and parties involved in the action."