Restaurant worker scam boss Kwai Fun Li loses £722,956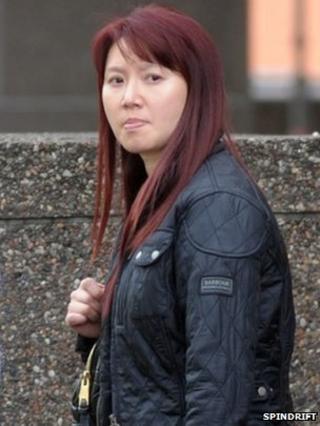 A woman who illegally employed six unlawful immigrants at her Chinese restaurants has had £722,956 seized under proceeds of crime legislation.
Kwai Fun Li, 45, from Bishopbriggs, was initially fined £6,000 at Glasgow Sheriff Court in 2011 for employing the staff between 2009 and 2010.
An investigation later revealed that she had profited from the criminal conduct to the sum of £1,064,094.
All her assets - including jewellery, cash and property - will now be seized.
Li employed the six workers at her two Kings Lodge Buffet outlets in Glasgow and Bishopbriggs.
'Criminal lifestyle'
She was found to have assisted unlawful immigration in her restaurants between December 2009 and May 2010, by facilitating staff members being in the United Kingdom by providing them with employment, accommodation and food.
On 1 June 2011 she pleaded guilty at Glasgow Sheriff Court to breaches of the Immigration Act 1971, and was fined £6,000.
Proceeds of crime legislation, however, means that those people convicted of "criminal lifestyle" offending must account for their unexplained income for six years before their arrest.
Li's finances were scrutinised by a team of law enforcement financial analysts and Crown forensic accountants.
They concluded that she had benefited from her general criminal conduct to the sum of £1,064,094.
A confiscation order for £722,956 was made against Li at Glasgow Sheriff Court on Tuesday after it was heard that this figure represented her identified and recoverable assets.
The court heard the assets included more than £100,000 - in Sterling, Hong Kong dollars and Singapore dollars - kept in a safety deposit box and at her home.
There was also jewellery and watches valued at over £30,000, more than £300,000 held in bank accounts as well as interest in four properties.
Li claimed that much of the jewellery and more than £300,000 belonged to her mother.
The sheriff found, however, that Li was neither credible nor reliable and the full order was made.
Speaking after the order was made, Solicitor General Lesley Thomson QC said: "The wide-ranging powers afforded to us by the Proceeds of Crime Act 2002 mean that such cases of criminal lifestyle offending no longer conclude at conviction.
"Those convicted must now account for their unexplained income for a full six years before arrest.
"Kwai Fun Li was found to be unable to provide a legitimate source for over £1m of her income over that time, and today a confiscation order has been made for the entirety of her remaining assets."
Tony Erne, director of criminal investigations for the Home Office added: "Not only did Kwai Fun Li knowingly try to flout immigration laws, she also preyed on vulnerable people desperate to remain in the UK illegally and she benefited from her criminal conduct to a significant degree."