Javaid Ali murder trial: Accused blamed man called 'Mull Mull'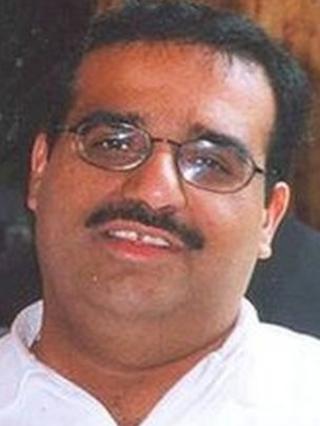 The Javaid Ali murder trial has heard that the accused told police a man called "Mull Mull" was responsible for the shopkeeper's death.
Paul Anderson, 30, said his brother Lee, 31, gave the name to officers days after he had jokingly admitted that he had carried out the fatal knife attack.
He was giving evidence for a second day at the High Court in Glasgow.
Lee Anderson denies murdering 48-year-old Mr Ali at his Sunshine Grocers shop in Paisley on 15 June 2012.
Paul Anderson told prosecutor John Scullion that his brother had twice confessed to him that he had stabbed Mr Ali.
He told the court that on each occasion he thought his brother was just kidding.
The witness said that after joking about being responsible, his brother went to Mill Street police office in Paisley on 29 August 2012.
He then told officers that the murderer was a man called Mull Mull.
Mr Anderson told the jury his brother had only one knife in his house and it was for icing cakes.
He said it was not sharp enough to have injured anyone.
Mr Anderson was asked by Mr Scullion if he told police that he had seen his brother sharpening the point of this knife weeks after the alleged murder.
He replied: "No. I was just saying anything. I wanted out of the police station."
'Wanting heroin'
Mr Anderson told defence QC Brian McConnachie that at the time he was a heroin addict and when questioned by police he was either on heroin or wanting heroin.
He was asked what was the first thing he thought of each day and replied: "Getting a fix."
The trial also heard from the accused's other brother, 24-year-old Patrick Anderson
In evidence, he said that he and Lee Anderson were at their mother's home in Paisley on 15 June last year.
He said he left his mother's home at 13:00 and described his brother in a police interview as being "agitated, angry and rattling".
In court he admitted that was what he told police, but added: "I can't remember him being like that."
Mr Anderson also told the jury he remembered on one occasion searching through his brother's bag and finding a knife, but said he could not remember if this was before or after the incident at the Sunshine Grocers.
Lee Anderson denies all the charges against him.
The trial before temporary judge Sean Murphy continues.