Glasgow Victoria Infirmary criticised over cleanliness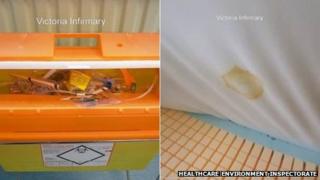 Health inspectors have criticised recurring problems with cleanliness and waste disposal at a Glasgow hospital.
An unannounced inspection visit at the Victoria Infirmary identified cases of dirty patient equipment.
Shortfalls were also found in how syringes, blades and other hospital "sharps" were disposed of.
NHS Greater Glasgow and Clyde has been told to address six priority issues within the month. The health board has drawn up an action plan to do so.
Inspectors from Healthcare Environment Inspectorate (HEI) carried out the inspection on 23 and 24 July.
'Not assured'
Their report said: "During the inspection, we found that over a period of time, there were recurring issues on ward south 2 with cleanliness of patient equipment, sharps and waste management.
"We were not assured that a managed environment could be consistently demonstrated to minimise the risk of infection and maintain necessary improvements identified through environmental audits and other audit tools."
The report also noted: "Sharps management in ward 17 and ward south 2 - for example a sharps bin in a clinical preparation area with protruding sharps and temporary closure mechanisms not used on sharps bins."
Inspectors also highlighted cases of dirty bed frames and bed control panels; dirty intravenous drip stands, which were in use; dusty and contaminated patient hoists; and an unclean patient chair weighing scale.
HEI chief inspector Susan Brimelow said: "We have identified six high priority requirements that we expect NHS Greater Glasgow and Clyde to address within the month.
"These include a requirement that staff follow the correct procedure for cleaning patient equipment, which we also identified as a requirement in our two previous inspections of the hospital.
"We will return to ensure action has been taken to improve standards of infection control, cleanliness and hygiene for patients using the Victoria Infirmary."
Rory Farrelly, NHS Greater Glasgow and Clyde's acute director of nursing, said: "We have received the inspector's report and are extremely disappointed and concerned that some areas fell short of the standards expected in all our hospitals.
"Clearly we need to reinforce some of our policies with both clinical and facility teams.
"We have already take steps to ensure that patient equipment is clean and ready for use, and have addressed the issues raised in connection with Ward 2.
"We have also put in place a comprehensive action plan to ensure the other requirements and one recommendation highlighted in the report are addressed."