Javaid Ali murder trial: Accused 'confessed to brother'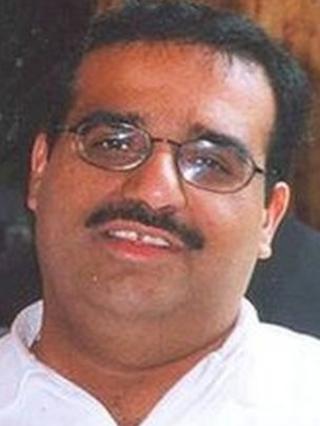 The brother of a man accused of murdering Javaid Ali has told a court that he confessed to stabbing the Paisley shopkeeper.
Paul Anderson, 30, told the High Court in Glasgow that he did not believe the remarks made by his brother Lee.
He also denied telling police that his brother had claimed to have stabbed Mr Ali after he had been caught stealing in his Sunshine Grocers shop.
Lee Anderson, 31, denies murdering 48-year-old Mr Ali on 15 June 2012.
Paul Anderson told prosecutor John Scullion that he did not believe his brother's claim that he had stabbed Mr Ali in Sunshine Grocers.
He said his brother showed him the knife he claimed he had used and added: "It was a round knife for putting paste on cakes. It wasn't sharp, it wouldn't have cut through anything."
'Wanted out'
The court heard that Paul Anderson gave police a statement in which he said his brother said: "I stabbed the shopkeeper."
The statement also added that Lee Anderson told him he had got into an argument with Mr Ali after he caught him stealing from the shop.
But Paul Anderson denied that he had ever said this to police.
He was asked why he had signed the statement if he had not said some of the things in it and replied: "I'd been in the police station for 10 hours. I wanted out of there."
Lee Anderson denies all the charges against him.
The trial before temporary judge Sean Murphy QC continues.