Javaid Ali murder trial: Accused 'joked' he did it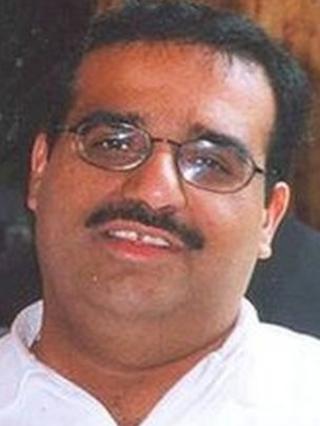 The mother of a man accused of murdering Javaid Ali has told a court that her son joked that he was responsible for killing the shopkeeper.
Margaret Anderson, 50, told the High Court in Glasgow that her son Lee, 31, told her: "It was me."
But she said it was a joke as "a couple of minutes later he said 'I'm sorry mum I didn't mean to give you a fright'".
Mr Anderson denies murdering 48-year-old Mr Ali at Sunshine Grocers in Green Road, Paisley, on 15 June 2012.
Mrs Anderson, a mother-of-four, told prosecutor John Scullion that her son made the remarks while they were in the kitchen of her home in Foxbar, Paisley.
She was asked if she thought her son had confessed to injuring Mr Ali and replied: "No. A couple of minutes later he said 'I'm sorry mum I didn't mean to give you a fright'."
Mrs Anderson told the jury that when her son said "it was me" she was taking clothes out of her washing machine and couldn't see his face.
Joke remark
Mr Scullion asked: "Did you think he was joking," and she replied: "Yes."
The prosecutor added: "When your son said those words your initial thought was he was confessing to injuring Javaid Ali," and she replied: "Yes."
Mrs Anderson told the court that she contacted Crimewatch after a programme featuring the death of Mr Ali was broadcast in July 2012.
She said it was because police were looking for someone wearing a grey tracksuit who was seen running away along the Clyde path near to Green Road.
Mrs Anderson said she emailed the programme because her son had clothes like that and added: "I didn't say he'd done anything. I just wanted him to be ruled out."
The jury heard that one of her other sons Paul Anderson, 30, told her in August 2012 that Lee Anderson had confessed to him that he had stabbed Mr Ali.
Mrs Anderson was asked: "Did you do anything," and replied: "I phoned CID."
She also revealed that she spoke to Lee Anderson and told him what his brother had said and added: "Lee said Paul was talking rubbish."
Under cross-examination defence QC Brian McConnachie asked Mrs Anderson if her son had told her after being detained and then released by police in August 2012: "I've done a lot of stupid things in my life, but I'm not a murderer and they'll find out when they get the results back that I wasn't near the guy."
She replied: "Yes, he shouted it at me."
The court also heard that in June 2012 Mr Anderson was a heroin addict.
He denies all the charges against him.
The trial before temporary judge Sean Murphy QC continues.