Javaid Ali murder trial: PC 'misidentified' accused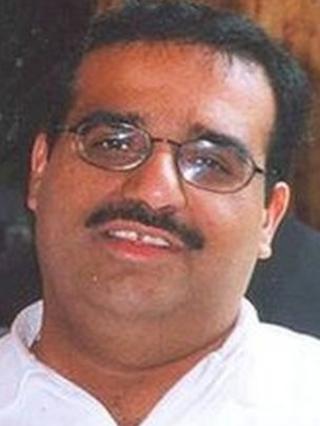 The Javaid Ali murder trial has heard how a police officer failed to identify the accused at an identity parade.
PC Sandra Ewing said a man who gave his name as Lee Anderson attended an incident caravan after Mr Ali's death.
She admitted later failing to identify Mr Anderson at a police line up but said that was a mistake and the accused was the man at the incident caravan.
Mr Anderson denies murdering 48-year-old Javaid Ali at Sunshine Grocers in Green Road, Paisley, on 15 June 2012.
PC Ewing, 41, told the High Court in Glasgow that the incident caravan had been set up at the junction of Cardell Road and Green Road as part of the murder investigation launched following Mr Ali's death.
'Local rumours'
The witness said she was manning the incident caravan on 2 July 2012 when someone who said he was Mr Anderson came in around 20:40.
She was asked by prosecutor John Scullion if the person gave a name, date of birth and address and she replied: "Yes. He gave his name as Lee Anderson, his date of birth as November 29, 1981 and his address as Morar Drive, Paisley."
PC Ewing added: "He asked me if I'd heard the local rumours. A male aged 16 or 17 who was just out of jail was responsible for the attack on the shopkeeper because he refused to sell him cider."
She said that the man claimed he had heard this from friends but refused to name them and when asked for a statement said he had to meet friends in Glasgow, but added he was usually at home during the day.
The jury was told that PC Ewing took part in an identification parade on 9 November 2012 as a witness.
There were seven people in the line-up, including Mr Anderson, and she picked out a stand-in.
PC Ewing agreed with defence QC Brian McConnachie that she had spoken face-to-face with this man for about three minutes and as a police officer she should be better than the average person at identifying people.
Referring to the identification parade, she said: "It appears I obviously picked the wrong person."
The witness then pointed to Mr Anderson sitting in the dock and added "But I'm standing here today saying I'm 100% confident that's the person who walked into the caravan."
Mr McConnachie the asked: "When he was one of seven people you didn't identify him, did you," and she replied: "I didn't pick out the right person on that day. The people did appear very similar."
The trial also hard from Mr Anderson's aunt.
Linda Gormanly, 52, said that when she visited her sister Margaret Anderson's home in Paisley, for a cup of tea on 22 June 2012, her nephew Lee was in the house.
She said that the talk turned to what had happened to Mr Ali and when she mentioned that her friend Patricia Reilly had seen someone outside the Sunshine Grocers about 15:30 on the day of the stabbing, Mr Anderson began questioning her.
Mrs Gormanly was asked by prosecutor John Scullion: "How many questions did he asked you," and she replied: "I don't know. I just wondered why he was so interested."
Mr Scullion then said: "Have you ever said it felt like he was interrogating you," and she said: "I did at the time, but Lee can be like that."
The prosecutor then said: "Did you describe Lee's questions as being like a dog with a bone," and Mrs Gormanly replied: "Yes."
The court heard that Mrs Gormanly sent two photographs of her nephew to her friend Mrs Reilly to see if he was the person she saw outside Sunshine Grocers.
In evidence, Mrs Reilly said she got a fleeting side-on view of the man as she drove past in a taxi and told defence QC Brian McConnachie there was "a slight similarity" to Mr Anderson and added: "I really don't know if it was him or not."
Earlier student David Howie, 18, had agreed with Mr McConnachie that he had initially told police that a hooded man he saw in Sunshine Grocers just minutes before Mr Ali was stabbed was around 6ft 2in tall, and was a teenager.
The jury has heard that Mr Anderson is 5ft 6in tall and aged 31.
Mr Anderson denies all the charges against him.
The trial before temporary judge Sean Murphy continues.