William Crawford admits jail attack on Imran Shahid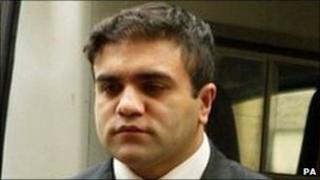 A murderer has admitted assaulting one of Glasgow schoolboy Kriss Donald's killers in a prison gym.
William Crawford, 25, attacked 36-year-old Imran Shahid at Kilmarnock Prison in February. His sentence was deferred at the town's sheriff court.
Crawford is currently serving a minimum of 18 years for killing Scott Adams, 20, in Clydebank in 2010.
Shahid, 36, is serving a minimum of 25 years for the racist murder of Kriss Donald, 15, in Glasgow in 2004.
Shahid's brother Zeeshan and Faisal Mushtaq were also given life terms over the schoolboy's murder.
Kilmarnock Sheriff Court heard how Shahid had gone to the gym with fellow prisoner and training partner Bernard Bisset.
Gang attack
The gym was busy on the night of the attack and was being supervised by two physical training instructors.
At about 20:15 Shahid was using a rowing machine when Crawford lifted a 15kg weight from nearby and struck his fellow inmate on the head, knocking him from the machine and onto the floor.
Crawford then threw the weight onto Shahid's chest before stamping on him as he lay on the floor of the gym.
The court was told that other prisoners, armed with metal poles taken from nearby weight training equipment, repeatedly struck Shahid's head and body.
When Bisset tried to intervene he was pushed away before being chased to the other side of the gym where he was punched and kicked.
During this assault Crawford struck Bisset with a dumbbell weight.
Following the attack, Shahid was taken to Crosshouse Hospital in Kilmarnock, where he was found to have potentially life-threatening injuries to his neck and spine.
Medical experts said Shahid, who needed surgery and wore a neck collar for 12 weeks, only survived due to his "extreme muscular build".
He suffered a fractured jaw and cheekbone, shattered teeth and cuts, bruises and swelling to his face and head.
Crawford admitted striking Shahid repeatedly on the head and body with metal weights and bars, kicking him repeatedly on the head and body and repeatedly stamping on his head, to his severe injury and danger of life.
He also admitted punching and kicking Bisset repeatedly on the head and body and striking him repeatedly with metal bars, to his injury.
Sentence was deferred for background reports until next month.