Javaid Ali murder trial: Witness 'points out' accused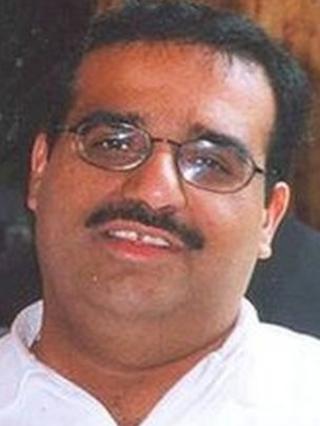 A murder trial witness has pointed to the accused when asked if he could see a man in court who may have been in a Paisley shop before a fatal stabbing.
David Howie, 18, from Paisley, pointed at Lee Anderson, 31, while giving evidence at the High Court in Glasgow.
When asked how certain he was that Mr Anderson was in the shop, he said it was "with a great deal of uncertainty".
Mr Anderson denies murdering 48-year-old Javaid Ali at Sunshine Grocers in Green Road, Paisley, on 15 June 2012.
He has lodged special defences of alibi and incrimination, naming five others.
'Looking tense'
Mr Howie, from Paisley, told the court that he went into to the store to buy vodka for a party.
The Stirling University student told prosecutor John Scullion that he was 17 at the time and worried that Mr Ali would refuse to serve him.
Mr Howie said that as he walked towards the store, at about 17:00, he saw his 10-year-old neighbour leaving the shop.
When he entered the shop, Mr Howie said: "I saw Javaid Ali and a man with a black hood. I remember Javaid's face looking tense. He was uncomfortable."
Mr Howie said the man, who had kept his back to him, indicated that he should go first.
He told the jury he asked Mr Ali if he could have a half bottle of vodka and was refused.
The student added: "I said come on why not," to which Mr Ali again refused, saying Mr Howie's mother would be angry.
'A junkie'
The witness told the court that he then appealed to the man in the black hood and asked him if he would buy the drink for him.
He added: "He turned round and said he was 18 and then said he was 19 and unfortunately didn't have his ID with him."
Mr Scullion asked Mr Howie what age the man was and he replied: "He could have been anything from 19 or 20 to 30. He was obviously a drug addict, a junkie."
Mr Howie said that he was in the shop for no more than three minutes.
He was asked if he could see that man in the court and pointed to Mr Anderson sitting in the dock.
Mr Howie was asked how certain he was and replied: "It is with a great deal of uncertainty."
He said that it was Mr Anderson's nose and brown eyes that made him think he was the man in the shop on 15 June 2012.
Mr Anderson denies all the charges against him.
The trial before temporary judge Sean Murphy continues.