Glasgow hosts Liberal Democrat conference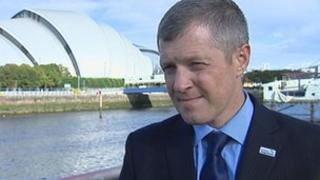 The Liberal Democrats have gathered in Glasgow for the party's combined Scottish and UK conferences.
It is the first time in more than a decade that the UK party has chosen Scotland for its policy get-together.
Deputy Prime Minister Nick Clegg arrived ahead of Scottish Lib Dem leader Willlie Rennie addressing the Scottish conference.
Mr Rennie used his speech to attack the Scottish government over its early years care provision.
The Scottish conference was formally opened by business minister Jo Swinson. Mr Clegg, who was due to speak at an opening night rally, will deliver his main speech as the event closes on Wednesday.
In his speech on Saturday afternoon, Mr Rennie accused the SNP administration of "holding a generation of children hostage" and argue the pro-independence party's leadership will only improve the system in the event of a "yes" vote in next year's referendum.
Mr Rennie, who will also address the main UK conference on Sunday, has frequently campaigned for extended childcare and nursery provision, often using First Minister's Questions to argue his case.
But he told delegates at the Scottish Exhibition and Conference Centre that First Minister Alex Salmond was not listening to Lib Dem proposals on childcare.
'Scotland on pause'
Mr Rennie said: "They are demanding nothing short of a ransom from the voters before they release the benefit to our children. They are holding a generation of our children hostage. It's not right.
"I appeal to the Finance Secretary, John Swinney, to intervene. We have worked together before to produce a budget. We can do it again this year. He should make the change this year to start a childcare revolution in Scotland, not keep Scotland's children hostage for his political ends."
Mr Rennie accused Mr Salmond of using nursery education as a "bait" for voters ahead of the referendum.
He also urged the Scottish government to review prosecution guidelines for domestic abuse in the wake of former MSP Bill Walker's conviction.
Mr Rennie said it was a national disgrace that more than 50,000 domestic incidents were reported to the police every year in Scotland.
He said: "We need to ensure that those who are living with domestic abuse are getting the support they need.
"And we need to work to make certain that those guilty of these offences receive a punishment that fits their crime.
"Which is why I am asking the Scottish government to review the prosecution guidelines for domestic abuse."
Walker was convicted of 23 domestic abuse charges at the end of a trial at Edinburgh Sheriff Court. He carried out the attacks against his three ex-wives and a stepdaughter between 1967 and 1995.
The former SNP MSP, who was ejected from the party when the allegations surfaced, denied the charges. He is due to be sentenced later this month, and could face a maximum penalty of a year in prison.