Stuart Patterson convicted of golf club murder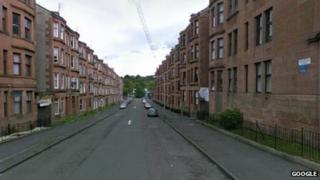 A man who tried to blame his wife for killing an illegal cannabis grower has been found guilty of murder.
Stuart Patterson, 27, claimed Kimberley Reid, 25, had battered Paul Cunningham, 35, with a golf club at the victim's flat in Glasgow, in February.
Reid admitted stealing cannabis plants from the flat and gave evidence against Patterson after having her not guilty plea to murder accepted by the Crown.
Patterson faces a mandatory life term when he is sentenced next month.
The trial at the High Court in Edinburgh heard how Patterson and Reid, who were separated, hatched a plan to steal and sell the cannabis which was being grown in Mr Cunningham's flat.
New Year row
They believed the cash would allow Reid to get a flat and persuade social workers that she could look after their three-year-old son, who is in care.
Patterson was also said to hold a grudge against Mr Cunningham after a New Year row saw him charged with assaulting the victim with a golf club.
Following that attack, he had been freed on bail - subject to an overnight curfew.
The court heard how the couple planned their raid on Mr Cunningham's flat in Aberdour Street, Haghill, for the afternoon of 8 February.
In her evidence, Reid described her shock when Patterson told her Mr Cunningham was dead - laughing as he did so - and flung open a door to show her the body.
She said: "I looked in and saw Paul Cunningham lying there. It was like, as if he was sleeping."
Reid told the trial that Patterson's excuse for going to the flat had been to show Mr Cunningham some golf clubs.
"He said they were lying on the couch and Paul had turned to get another golf club from the bag and when his back was turned he (Patterson) hit him with a golf club.
"He said he (Cunningham) had turned round and his eyes were glazed over and he kept hitting him, even as he fell to the floor."
Cover story claim
Patterson told the trial he was "heartbroken" because his estranged wife had given evidence against him, in spite of his efforts to protect her by agreeing a cover story and lying to police.
He claimed Reid struck the fatal blows before he could disarm her.
After the jury's majority verdict, temporary judge John Morrison QC called for background reports and ordered Patterson to remain in custody pending formal sentencing next month.
Patterson will learn then how long he must spend in prison before he can ask for parole.
Reid, who admitted stealing cannabis and being concerned in the supply of the drug, was allowed to remain on bail.
The judge warned her that she too faced a prison sentence.