Javaid Ali murder trial: Witness denies stabbing shopkeeper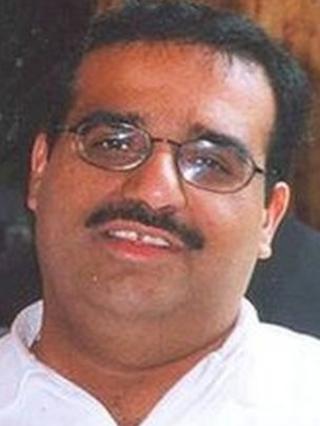 A man named by a murder accused as the possible killer of a shopkeeper sent a text saying he would kill someone if he did not get a joint, a court has heard.
Sean Dock, 26, from Paisley, told the High Court in Glasgow that he sent the text but did not kill Javaid Ali.
The court previously heard that Mr Ali sold cannabis from his van.
Lee Anderson, 31, denies murdering Mr Ali in Paisley on 15 June 2012 and has lodged special defences on alibi and incrimination, naming five other men.
One of these men, Mr Dock, gave evidence at the trial on Thursday.
'Not true'
He was asked by prosecutor John Scullion QC: "Were you in the Sunshine Grocers on June 15, 2012," and he replied: "No."
Mr Scullion then asked: "Did you stab Mr Ali" and Mr Dock said: "No, it's not true."
Mr Dock was then asked if when he heard the news about Mr Ali's death he had said: "He had it coming" and that he was "cheeky", but the witness denied ever saying those things.
The jury heard that Mr Dock sent a text message to a friend on the day Mr Ali was stabbed which said: "I'm going to kill someone if I don't get a joint."
Mr Dock was asked if it was a joke and he said it was not and added: "It meant I was stressed out my box and needed a joint."
He told the court that the friend he texted often brought him drugs from his supplier.
The court has already heard that Mr Ali was selling cannabis to customers.
He did not sell the drug in his shop, but from his white van parked outside.
Mr Dock said he was a user of cannabis, but said he had never bought any from Mr Ali.
He was asked why he appeared to have a lot of cash after Mr Ali's death and he said he had been paid backdated benefits in a lump sum.
Under cross-examination by defence QC Brian McConnachie, Mr Dock said that he was at home all day on 15 June 2012.
Mr McConnachie said, referring to the text message: "So it is a coincidence that as a matter of fact someone is killed within a pretty short distance of your home," and Mr Dock replied: "Yes."
The QC added: "You thought you were going to kill somebody," and Mr Dock said: "No."
Mr McConnachie then said: "After a visit that day from a social worker you were raging," and Mr Dock said: "No."
Mr Dock was asked if it was just a coincidence that on 15 June 2012 he was broke and five days later had enough money two buy two blackberry phones. The witness said it was a coincidence.
He was then asked when he found out Mr Ali was selling cannabis and said: "After it happened - after he was stabbed."
Murder accused Mr Anderson denies all the charges against him.
The trial before temporary judge Sean Murphy continues.