Alan Cowan jailed for Hogmanay knife killing of Ryan Sherry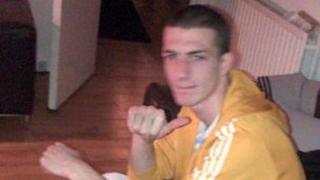 A man has been jailed for nine years for stabbing a friend to death after "horseplay" at a Hogmanay house party spiralled out of control.
Alan Cowan chased and stabbed 21-year-old Ryan Sherry in Glasgow's Springburn area on 31 December last year.
The High Court in Glasgow heard how he was "like an animal" and left Mr Sherry lying with the blade still in his body.
Cowan, 23, was originally charged with murder but later found guilty of the reduced charge of culpable homicide.
Passing sentence, judge Lord Matthews said it appeared that everyone at the party had been enjoying the Hogmanay celebrations before "things took a turn for the worse".
'Genuine remorse'
The judge added that what started as "horseplay" led Cowan to "lose control" after he was assaulted himself.
He went on: "There is no doubt your remorse is genuine, but that cannot undo what has been done."
Cowan's trial heard how he had hosted the Hogmanay party at a flat in Petershill Road which he shared with his sister.
He was later involved in play-fighting with Mr Sherry and another reveller, John James Fraser.
This eventually annoyed Mr Sherry and both he and Mr Fraser left the flat.
There were claims Cowan was assaulted before the men departed, leaving him bleeding.
The court was told that a topless Cowan - who also had no shoes on - went outside armed with a knife and caught up with Mr Sherry.
Cowan was said to be "like an animal" while Mr Sherry was described as appearing "scared" and "in a panic".
Cowan then struck a fatal blow with the knife, hitting a major artery in the shoulder area.
'Devastated' by death
He then left his victim dying in the street, with the blade still in his body, close to Springburn fire station.
Mr Sherry died in Glasgow Royal Infirmary on New Year's Day.
Cowan accepted during the trial that he was responsible for the death and that he was "devastated" at what happened.
Following his conviction, Lord Matthews said: "It is amazing how something like this can occur out of the daftest of arguments."
It emerged after the verdict that Cowan had been ordered to carry out community service for assault in 2011.