Javaid Ali murder trial: Witness 'blamed' for stabbing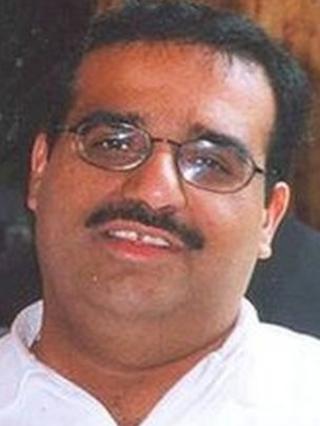 A witness in the Javaid Ali murder trial has said he was "surprised" at rumours that he killed the shopkeeper.
Christopher Donnelly, 25, told the High Court in Glasgow that he was aware he had been "getting the blame".
Mr Donnelly's father, James, 50, also told the court that local "mouthpieces" had spread rumours about his son.
Both were giving evidence at the trial of 31-year-old Lee Anderson who denies murdering Mr Ali at Sunshine Grocers in Green Road, Paisley, on 15 June 2012.
Christopher Donnelly told the court that he had been out with his father James and a friend the day that 48-year-old Mr Ali was attacked.
He said he was later aware something had happened when his father spoke to his mother Eileen Meechan, who the jury earlier heard dialled 999 after going into Mr Ali's store.
Mr Anderson's QC Brian McConnachie asked Mr Donnelly: "It would be no surprise that your name was on a list of people who potentially committed this crime?" He replied: "Yes, it is a surprise."
Mr McConnachie then asked: "Your name, as you put it, was being fired in for this crime."
Other names
Mr Donnelly replied: "It was a surprise that I was getting the blame for it."
He went on: "I had heard people saying my name, but lots of other people's names as well."
Mr Donnelly's father later told the trial that it had been "mouthpieces in the scheme" spreading rumours about his son.
Mr McConnachie suggested to Mr Donnelly that he was the "perfect alibi" for his son.
The witness replied: "Of course I am because he was with me."
The trial, before Judge Sean Murphy QC, continues.