Arran War Memorial Hospital warned over dirty toilets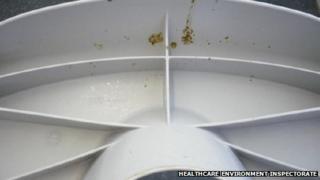 A health board has been told to improve cleaning procedures at an island hospital after inspectors found dirty toilets during an unannounced visit.
Inspectors visited Arran War Memorial Hospital on 17 July.
Overall, they found it to be clean and staff to be following infection control procedures. However, "body fluid" contamination was found on two toilets and "faecal matter" on one other.
NHS Ayrshire and Arran has developed an action plan to tackle areas of concern.
Healthcare Environment Inspectorate (HEI) chief inspector Susan Brimelow said: "We found that NHS Ayrshire and Arran is complying with most standards to protect patients, staff and visitors from the risk of acquiring an infection.
"Our inspectors found that the hospital was clean and staff were complying with standard infection control precautions.
'Valuable visit'
"However we also identified areas for improvement including that patient equipment is cleaned effectively between patient use to ensure that it is safe, clean and ready to use."
Prof Fiona McQueen, nurse director at NHS Ayrshire and Arran, said: "The HEI inspection of our hospital was highly valuable in helping us identify areas where we need to improve and our ward staff found the visit to be informative and useful.
"We are pleased that the inspection team observed that we are working to protect patients, staff and visitors from the risk of acquiring an infection and that the hospital was clean.
"We have an action plan in place to ensure that the recommendations and requirements highlighted by the HEI team are implemented and we will ensure that we continue to provide high standards of care and hygiene throughout our healthcare settings."