Historic clipper City of Adelaide 'floats again' for first time since 1991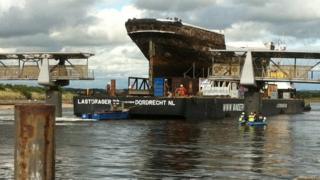 Hundreds of people have watched in Irvine as the oldest surviving clipper ship in the world floated for the first time in more than 20 years.
The City of Adelaide has been on dry land at the Scottish Maritime Museum in North Ayrshire since being salvaged in 1992 after sinking in the River Clyde.
The vessel is now being moved to Australia.
A tug began to push the vessel, which has been loaded on to a pontoon barge, towards the sea.
The plan is to take the ship initially to London.
She will then be loaded into the hold of a giant cargo ship to be transported to Australia.
Some campaigners wanted City of Adelaide returned to Sunderland, where it was built in 1864, but lost out to a rival Australian bid.
The City of Adelaide was built on the River Wear to carry people emigrating to southern Australia.
In 1893 it became a hospital ship, but in 1924 was converted into a training ship at Irvine, and renamed HMS Carrick.
In 1991 the ship sank at the Princes Dock, Glasgow, and lay on the bottom of the River Clyde for a year before being raised and taken to Irvine.