Diver Tom Daley meets 2014 Commonwealth Games fans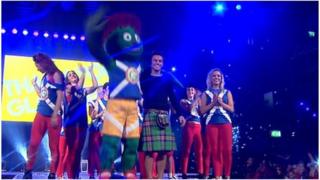 Diver Tom Daley met with fans as he took up his role as an ambassador for the 2014 Commonwealth Games in Glasgow.
The 19-year-old was the special guest at an event in the city's Fruitmarket.
Donning a kilt and meeting Games mascot Clyde, he said he was looking forward to what he expected would be an "amazing atmosphere" at Glasgow 2014.
Daley joins fellow Olympians Sir Chris Hoy and Rebecca Adlington in promoting the international profile of the event.
In a question and answer event, Daley told fans that the Glasgow 2014 Games were a big deal for him.
He said: "The most exciting thing for me is looking forward to the crowds - I got a taster of it last year at the Olympics and I want to sample that again, bring back all the memories.
"I know all the Scottish people are very loud when they want to be, all the cheering and stuff, I know its going to be an amazing atmosphere.
"Just being back in a village environment and just being back competing in a big event again."