Tiree children given swimming lessons in Loch Bhasapol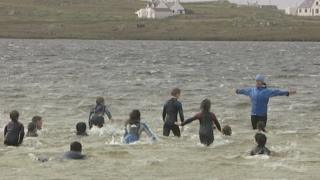 Schoolchildren on the Scottish island of Tiree have overcome the absence of an indoor heated pool by taking swimming lessons in a local loch.
Two swimming instructors have been brought in to offer a week of classes in the chilly waters of Loch Bhasapol.
Normally pupils only get lessons during an annual school trip to Oban, which is four hours away by ferry.
The sessions, which are also open to adults and under-fives, were organised by local artist Catriona Spink.
'Quite hardy'
She said the swimming lessons were proving popular - once those taking part got over the initial shock of the cold water.
Ms Spink said: "Oban is our closest pool. The kids only get one school trip in first and second year at secondary that involves swimming.
"Most of them are quite hardy. Once you get them in there then they just seem to have so much fun."
Tiree swim week on Loch Bhasapol is running from 2 until 6 September.