Diver Tom Daley is new 2014 Commonwealth Games ambassador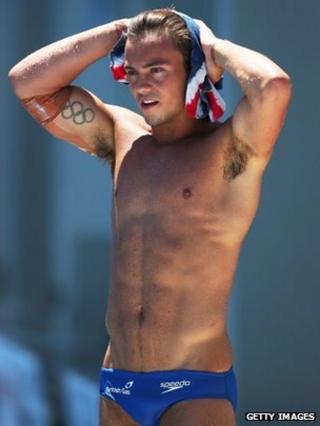 British diver Tom Daley is the latest sports personality to be unveiled as an ambassador for the 2014 Commonwealth Games in Glasgow.
The 19-year-old joins fellow Olympians Sir Chris Hoy and Rebecca Adlington in taking on the role to lift the international profile of the event.
Daley informed his 2.4 million Twitter followers on Wednesday that he would be in Glasgow at the weekend.
He will attend a special Games event at the Fruitmarket on Sunday.
Speaking ahead of the event, Daley said: "I'm really looking forward to seeing Glasgow and be a part of the countdown to the Commonwealth Games.
Training focus
"I want everyone to get behind the games and all the athletes. It'll be fun but tough. I have great memories of winning gold in Delhi, so I'm totally focused on training and holding on to my title.
"In April, I experienced the enthusiasm of Scottish crowds when I won gold at the Royal Commonwealth Pool in Edinburgh, which is the same pool for the Commonwealth Games. I can't wait to be back there next year and go for gold again."
David Grevemberg, chief executive of Glasgow 2014, said: "Tom's the prefect ambassador to inspire young people about sport and help us get everyone involved in the UK's next major sporting celebration.
"We're delighted to welcome him as an official ambassador for the games and look forward to introducing him to Glasgow this weekend, and working with him over the next year to deliver the friendliest of family-friendly games."