Campaign to honour VC winner Lieutenant Noble Graham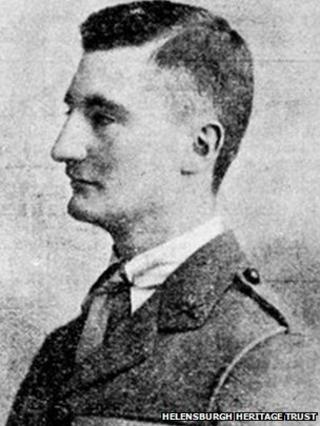 A campaign is underway to ensure that a Scots World War I hero is not left out of official commemorations.
The UK government is to create memorials to Victoria Cross (VC) winners as part of next year's events to mark the centenary of the conflict.
Lieutenant Reginald Noble Graham, from Helensburgh, who served with the Argyll and Sutherland Highlanders, may be omitted as he was born in India.
The Helensburgh Heritage Trust says Lt Graham's heroism should be celebrated.
Lt Graham won the VC for bravery while serving in the 9th Battalion of the Argylls at Istabulat, Mesopotamia, on 22 April 1917.
While in charge of a machine gun section, he came under heavy fire and was seriously wounded several times.
He insisted, however, on carrying the ammunition and continuing to fire upon the enemy.
Lt Graham was awarded the VC by King George V later that year.
It was reported that when he returned to his home village of Cardross, in Argyll, local people met him from the train and, led by a piper, carried him shoulder-high to his car.
The Department for Communities and Local Government recently announced plans to commemorate UK-born WWI VC winners with special commemorative paving stones, as part of the 2014 centenary.
'Totally unacceptable'
Stewart Noble, chairman of Helensburgh Heritage Trust, said it would be unfair to exclude Lt Graham on the grounds that he was born in India.
"The Helensburgh area is proud of Reginald Noble Graham and accounts of the hero's welcome on his return to Cardross make quite clear how strong his local links were back in 1918, " said Mr Noble.
"That he might not be commemorated next year, simply because he was born in India, is totally unacceptable.
"Young people need to know our history and commemorating the bravery of Lt Col Noble Graham would be a powerful way to make the Great War more relevant to them today."
He added: "The government should close this loophole so we can commemorate him next year."
The Department for Communities and Local Government has said that no VC winners will be forgotten, and further plans will be set out soon.