Merchant City Festival brings £900,000 to Glasgow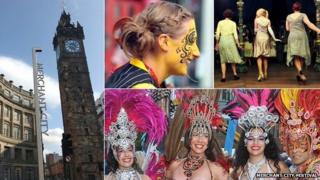 This year's Merchant City Festival brought an extra £916,420 to Glasgow, a report has found.
The study, by consultants Ekos, said the figure represented a rise of 5% on the economic benefits to the city of last year's festival.
It also noted that 17% of visitors were from outside Scotland.
More than 100,000 people attended about 100 performances and events at this year's festival, which ran between 24 and 28 July.
The report noted that 98% of people questioned rated the festival as very good or good.
All of those questioned also rated the quality of Glasgow as a tourist destination as either very good (68%) or good (32%).
'Premier event'
Glasgow City Council leader, Cllr Gordon Matheson, said the festival was one of Glasgow's "premier cultural events".
"This research confirms that not only the people of Glasgow, but those from across the UK and indeed even further afield, were delighted with what they experienced.
"A satisfaction rating of 98% is something to be proud of, but it does leave a little room for improvement."
Cllr Matheson added: "What's more, almost all say that enjoying Merchant City Festival will encourage them to go on and try similar events in the future.
"That is good for the individual and for building a greater audience for arts in Glasgow."