Driver Phillip Hogg guilty over biker James Burns' death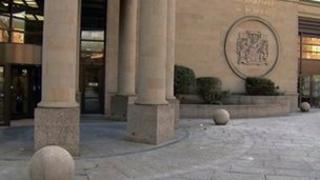 A driver who claimed a crash with a motorcyclist was caused when he swerved to avoid a deer has been found guilty of causing death by careless driving.
Phillip Hogg's Alfa Romeo hit 53-year-old James Burns' bike head-on on the A70 Kilmarnock to Edinburgh road, near Carnwath, on 7 September 2011.
Witnesses described Hogg overtaking a car a split second before the smash.
The 43-year-old was found guilty following a trial at the High Court in Glasgow. Sentence was deferred.
During the trial, Hogg claimed that said that he had swerved onto the wrong side of the road to avoid what he thought was a deer.
'Black shadow'
He told the jury that it was raining heavily and added: "A black shadow became apparent to me through the spray.
"The angle I saw it the shadow appeared to be moving into my path. It looked like it was going from one side to another. I thought it was a deer."
Hogg said there was an impact - which he could not remember clearly - and his car became airborne and landed on its roof.
He was asked by advocate depute Andrew Brown QC, prosecuting, when he became aware it was not a deer he had hit and said it was two weeks later when his then girlfriend Katy Penman, who was a passenger in his car, was interviewed by police.
Other witnesses spoke of Hogg - who admitted having one glass of white wine before setting off from Roberton, South Lanarkshire - overtaking a car when he crashed into the bike.
Mechanic William Gourlay, 29, from Lanark, said he overtook a VW Golf and then pulled in.
Seconds later he saw a motorbike coming towards him.
Witness disbelief
He looked in his rear view mirror and added: "As I looked behind me there was a collision. The Alfa Romeo was on the wrong side of the carriageway and level with the Golf. I couldn't believe what I'd seen."
Steel erector Alan Bertram, 29, from Lanark, said he was overtaken by Mr Gourlay and added: "Straight after that I noticed the bike. It was on the same side of the road as the Alfa. I just saw a dark shape and a dark figure and then there was a collision."
Hogg's former girlfriend Ms Penman said she did not know what had happened because she was looking at clouds out of the passenger window.
Hogg, now of South Queensferry, Edinburgh, was originally charged with causing death by dangerous driving, but the jury found him guilty of the reduced charge of death by careless driving.
The court heard he had a previous conviction for drink driving in 2004.
Judge lord Brodie said: "The victim in this case was entirely guiltless and faultless."