Man, 24, dies in Glasgow car and bus collision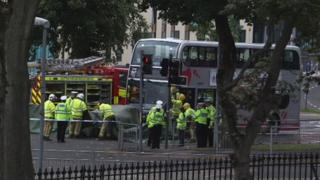 A 24-year-old man has died following a crash involving a car he was driving and a bus in Glasgow.
The emergency services were called to the collision at about 06:40. Grange Road, close to its junction with Langside Road, was closed.
Police said a Hyundai car appeared to have crossed the road and hit the front of a stationary bus.
The 27-year-old driver of the bus and a number of passengers on board were not injured.
Police have asked any witnesses to contact them.