Driver Lorraine Bruce admits causing Gavin Currie's death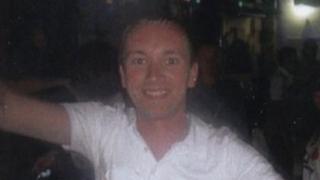 A motorist whose car hit a 25-year-old man at a zebra crossing has admitted causing his death by careless driving.
Lorraine Bruce's Ford Mondeo car hit Gavin Currie in Main Street, Neilston, Renfrewshire, on 28 December 2011.
Paisley Sheriff Court heard that she had been distracted by a crowd outside the Kinloch Bar at the time and had not seen Mr Currie crossing the road.
Sheriff Susan Sinclair deferred sentence on Bruce until next month and banned her from driving.
The court heard how Mr Currie and others had gathered at the Kinloch Bar to watch a football match that was being televised there.
Speed limit
He had left to go to a cash machine and was returning when Bruce's car hit him as he crossed the road at a zebra crossing.
Mr Currie struck his head on the windscreen of the car, causing it to smash, before falling to the ground.
He was taken to the Royal Alexandra Hospital in Paisley where he died two days later.
Defence agent Gordon Ritchie it was particularly tragic as his client had been driving within the speed limit, paying attention to others whom she saw as posing a potential risk due to uncertainty about what they might do.
The lawyer said that his client told police afterwards: "I just didn't see him."
Mr Ritchie added: "When it comes to sentencing, I don't think it will really matter to her what happens as she has had to live with the consequences of that night.
"It has been impossible to get through a consultation without Mrs Bruce breaking down. She simply cannot come to terms with what happened."
The court was told that she wished to express condolences to the family of the deceased.
"This is a particularly tragic situation where someone has lost his life and someone else is going to have to face a lifetime living with this," said Mr Ritchie.
"It was a tragic accident caused by a small error on her part."