UK Border Agency posters branded 'racist'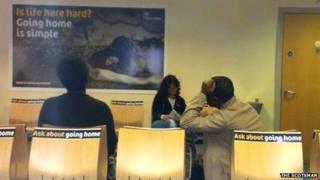 A Home Office poster campaign advising people not eligible to stay in the UK that they can be given help to go home has been branded "racist" by a charity.
The campaign began at offices in Glasgow and London on 29 July and will run until 4 October.
The Home Office said it was part of a policy to help those who cannot stay in Britain to "return home with dignity".
Positive Action in Housing, which works with asylum seekers, said the posters were "shameful and deeply offensive".
One of the posters on display at the Glasgow office reads: "Is life here hard? Going home is simple".
Another shows a photograph of an aeroplane with the caption: "This plane can take you home. We can book the tickets".
Chairs in the waiting area had stickers which said: "Ask about going home".
'Xenophobic refrain'
The Glasgow-based charity's director Robina Qureshi said: "As we all should know, 'go home' is a well-known racist taunt that has been used for decades in this country by fascists and racists against those of us from immigrant communities.
"That a government agency should decide to take up the same racist and xenophobic refrain while processing would-be refugees to this country, is shameful and deeply offensive.
"The go home poster campaign exposes the UKBA's attitude and gives us a small idea of what refugees in this country go through when they seek asylum."
SNP MSP for Glasgow Cathcart, James Dornan, said he had written to Home Secretary Theresa May demanding that the poster campaign be stopped immediately.
"There is no room for this type of abhorrent xenophobic campaign which will only serve to make already vulnerable people feel unwelcome and fans the flames of racial bigotry," he said.
"The Home Office has absolutely no idea about how modern Scotland treats vulnerable people - regardless of where they are from. Their campaign in Brand Street must stop immediately."
The Scottish government said immigration policy was currently reserved to the UK government.
But a spokesman added: "An independent Scotland will also ensure that we uphold our long tradition of providing shelter for those fleeing violence and persecution in their own countries."
Forced removals
A Home Office spokeswoman said the posters were part of a pilot campaign running at the UKBA offices in Brand Street, Glasgow, and Hounslow, west London.
She said it was part of a wider policy aimed at highlighting the range of help and advice available to those not eligible to stay in Britain to return home voluntarily.
The spokeswoman said this was more cost-effective and less traumatic than forced removals.
"Those with no right to remain in the UK should leave voluntarily," she said.
"These posters are designed to ensure people know that we can provide sensitive advice and assistance to help them return home with dignity.
"We also continue to work closely with community groups who welcome the opportunity for someone who is not here legally to leave the country of their own accord."