Talks over South Lanarkshire Council equal pay dispute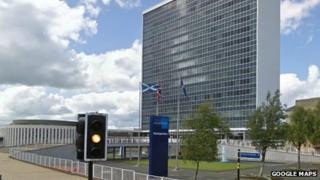 Talks are to take place in a bid to agree a settlement in a long-running council equal pay dispute.
South Lanarkshire Council has opposed claims that it awarded extra bonuses for male workers while women on the same pay grade received nothing.
Both sides have now agreed to delay employment tribunal hearings while "exploratory discussions" take place.
The move comes after the council failed in a legal bid to block a freedom of information request on its pay scales.
In a joint statement issued on Wednesday, the parties involved in the dispute said they had agreed to hold "a series of meetings timetabled over the next three months".
'Positive moves'
To facilitate this process, a joint application has been made to postpone hearings due to take place at the Employment Tribunal in Glasgow in September.
If an agreement cannot be reached, new hearing dates will be fixed for early next year.
South Lanarkshire Council Leader Eddie McAvoy said: "I am pleased that there have been positive moves on this issue and I look forward to further progress being made."
Carol Fox, from Fox and Partners solicitors, which is representing staff, said: "We are always focussed on the needs of our claimants and hope that we can agree favourable terms in the near future."
Last month the council lost a legal bid to block freedom of information requests submitted by Mark Irvine, from the campaign group Action 4 Equality Scotland.
The council had consistently refused on the grounds that to release such information would breach the Data Protection Act.
'Unanimous ruling'
When Mr Irvine's case was upheld by the Scottish Information Commissioner, the council subsequently launched an unsuccessful appeal at to the Inner House of the Court of Session.
Following this setback, it launched a second appeal to the UK Supreme Court.
In their written judgement issued last month, Lady Hale, sitting with Lord Kerr, Lord Wilson, Lord Reed and Lord Carnwath, unanimously dismissed the appeal.
It later emerged that the failed action was likely to cost South Lanarkshire almost £200,000 in legal bills - its own and that of the information commissioner.
Stefan Cross QC, representing Action 4 Equality Scotland, described the agreement to hold talks in a bid to resolve the equal pay dispute as "a very significant development".
He added: "It is, however, only the first step with no guarantees of success."