Gareth Polland charged after attacking James Ainsworth outside Glasgow court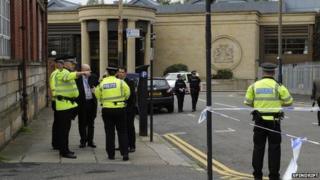 A man has been charged with attempted murder after an ex-policeman on trial for sex offences was attacked outside a Glasgow court.
Gareth Polland, 31, from Shropshire, made no plea or declaration during an appearance at Glasgow Sheriff Court.
James Ainsworth, 61, was left with life-threatening injuries following an incident outside the High Court in Glasgow on Wednesday afternoon.
Mr Ainsworth's trial was halted as a result.
He is being treated in the city's Southern General Hospital.
Mr Polland, from Telford, was remanded in custody and is expected to appear again in court next week.