Major water mains project in Glasgow completed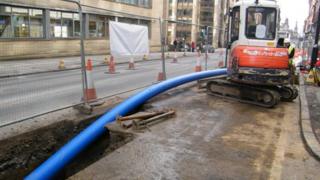 Scottish Water has completed a £3.5m upgrade of parts of the water mains network in Glasgow city centre.
The work involved replacing five miles of ageing distribution mains beneath some of the city's busiest streets.
It took more than a year to complete the project.
Scottish Water said the upgrade would reduce the risk of bursts and help the city as it prepared for the 2014 Commonwealth Games and other major events.
It added that the investment would help to provide clearer, fresher drinking water to properties in the area and further reduce leakage.
There are about 60 miles of water mains beneath Glasgow city centre, which stretches to the M8 in the west and north, the River Clyde in the south and High Street/Castle Street in the east.
The upgrade mainly involved work on distribution mains but included a long stretch of a trunk main from Nelson Mandela Place east along West George Street, George Street and Duke Street.
Scottish Water asset management director Geoff Aitkenhead said: "These improvements will benefit our customers for many years to come.
"They will also help the city as it prepares for the Glasgow 2014 Commonwealth Games and other major events."