Asylum seeker awarded wrongful detention compensation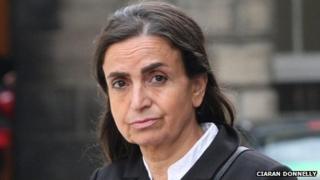 An asylum seeker has been awarded £36,000 damages against the UK government for wrongful detention.
Nemah Shehadeh, who lives in Glasgow, was held after an attempt to deport her to Jordan failed in January 2008 when she claimed to be a Palestinian.
A judge at the Court of Session in Edinburgh has now ruled that the 58-year-old was unlawfully detained for one year from August 2008.
Lord Tyre said the sum awarded was "appropriate compensation".
The court heard how Shehadeh previously lived in Saudi Arabia with a husband, from whom she is now separated.
False passport
She was issued with a six-month visitor visa to come to Britain on the basis that she was a Jordanian citizen and arrived in August 2002 but overstayed.
Shehadeh was arrested in 2005 at London's Heathrow airport with a son when they were attempting to use false French passports to travel to Canada.
She was subsequently convicted of using a false passport at Hillingdon Magistrates Court and sentenced to four months imprisonment with a recommendation for her deportation.
Following her release Shehadeh was neither detained nor deported and went on to make an asylum claim which was rejected in 2007.
In January 2008 she was flown to Jordan but on arrival told immigration officials that she was Palestinian and as a result was refused entry to the country.
In July 2008 the Jordanian embassy told Home Office officials that Shehadeh was not one of their citizens and had only been issued with a temporary travel document by the country's authorities.
A Home Office official later assessed the prospect of sending her to Palestine within a reasonable time as "highly unlikely" as her removal would be on a voluntary basis and she refused to return.
It was then proposed that Shehadeh be detained while her case was considered for release with rigorous reporting restrictions.
Since her release in 2009, Shehadeh has maintained that her continued detention was unreasonable and unlawful.
Her counsel Alan Caskie maintained that the risk of her absconding was exaggerated and her immigration record was portrayed as worse than it was.
Jordan 'confirmation'
It was argued for Home Secretary Theresa May that the decision to detain and continue to hold her were lawful.
The government's legal team argued that it was always intended to deport her and the period was reasonable taking into account her previous conduct and refusal to co-operate with her voluntary return.
It was maintained that a letter from the Jordanian authorities in 2012, confirming she was a national of that country, vindicated the decision.
Lord Tyre said, however, that the earlier setback in removing Shehadeh from Britain in 2008 "necessitated a fresh assessment of the lawfulness of her continued detention".
The judge said that he reached the view that following the Jordanian embassy advice in 2008 "a fair-minded assessment balancing the prospect of her successful removal against the risk of absconding ought to have led to the conclusion that the respondent would not be able to effect deportation within a period that was reasonable in all the circumstances."
The judge said that he considered that her detention ceased to be lawful by the end of August 2008.
Lord Tyre said a finding of unlawful detention did not automatically result in damages but held Shehadeh was entitled to a compensatory award.
The court heard that earlier this year directions were issued to send Shehadeh back to Jordan.
She has now made a fresh claim for asylum in the UK, based on her conversion from Islam to Christianity.