Six years for knife-wielding robber Thomas Fadian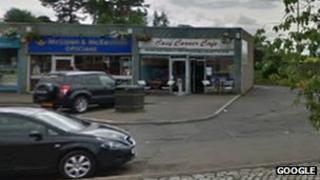 A man who robbed a cafe at knifepoint has been jailed for six years at the High Court in Glasgow.
Thomas Fadian, 39, brandished an eight-inch blade during the raid on the Cozy Corner Cafe in Hardgate, West Dunbartonshire.
He threatened a waitress before demanding cash.
During an earlier hearing, the High Court in Dumbarton was told Fadian dropped some of the stolen money after being challenged by a cafe customer.
Mark McIntyre, 28, used a chair to pin him against a window. Fadian eventually broke free and ran off.
Fadian later said he had been confronted at the cafe by "some super hero".
Jailing Fadian, judge Lord Boyd ordered that he should be supervised for a further five years after his eventual release.
The judge said a letter written by Fadian, formerly of Glenburn, Paisley, showed "a degree of insight" into what he had done.
Lord Boyd added: "I have decided to restrict the custodial part of the sentence I intended to give before reading your letter and listening to your counsel.
"However, it still has to be a very substantial period of time."
After Fadian pled guilty midway through his trial, it emerged that he had previously been jailed for 10 years in 2001 for assaulting and robbing an 80-year-old woman in her home.
Speaking about his part in the incident, Mr McIntyre said: "I just reacted to the situation without thinking. I sort of panicked and picked up a chair to try and scare him off. I asked him to leave, but he was not listening.
"He had his heart set on getting the money. I moved towards him and pinned him at the window with the chair.
"It was only after I had the chance to think about it I realised what could have happened and the danger I was in. My heart was pounding."