Man, 20, in hospital after bridge fall in Paisley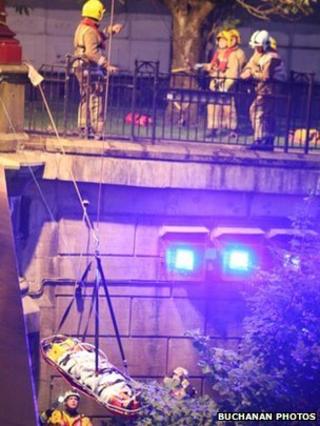 A man is being treated in hospital after falling from a bridge in Paisley.
Emergency services were called to the scene after reports that a man had jumped into the River Cart, near the town's Bridge Street, at about 04:25.
The man, aged 20, was found on an embankment before being taken to the Royal Alexandra Hospital in Paisley. His condition is not yet known.
The Scottish Fire Service said he was moved in a complex operation involving all three emergency services.
A spokeswoman for Police Scotland said: "At 04:25, police were called to a report of a man who had jumped into the River Cart near Bridge Street in Paisley.
"Emergency services attended and the 20-year-old man was rescued.
"He has been taken to Royal Alexandra Hospital in Paisley where he is being treated for his injuries."
A spokesman for the Scottish Fire and Rescue Service said: "This was a complex operation and it showed the importance of the close partnership between the emergency services.
"Firefighters, paramedics and police officers obviously work extremely closely to help people in need of rescue, and this incident involved specialist water rescue teams from both the fire and ambulance services as well as firefighters' rescue at height capability.
"All the emergency services personnel involved in today's operation will wish the best for the injured man and our thoughts are with him at this time."