Field Marshal Montgomery Pipe Band win third World championships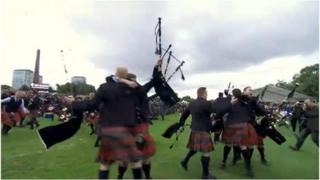 Field Marshal Montgomery Pipe Band have won the World Pipe Band Championships for the third time in a row.
The band, from Northern Ireland, were crowned winners as the annual event - known as The Worlds and staged on Glasgow Green - drew to a close.
About 8,000 pipers and drummers were competing, over two days, for the top spots in various categories.
Overall, an estimated 225 bands from 17 different countries had travelled to Glasgow to take part.
This was the first time the event was held over two days. Field Marshal Montgomery Pipe Band, from Lisburn in Northern Ireland, had won the previous two championships.
The Worlds marks the end of Glasgow's week-long Piping Live festival.
The World Pipe Band Championships is organised by Glasgow Life on behalf of The Royal Scottish Pipe Band Association and Glasgow City Council.