Glasgow hosts 'The Worlds' pipe band championships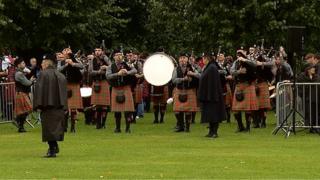 About 8,000 pipers and drummers are taking part in the 2013 World Pipe Band Championships in Glasgow this weekend.
Overall, an estimated 225 bands from 17 different countries will compete in the annual competition at Glasgow Green, which is known as The Worlds.
This is the first time the event is being held over two days. Field Marshal Montgomery Pipe Band from Lisburn won the previous two championships.
The Worlds marks the end of Glasgow's week-long Piping Live festival.
The World Pipe Band Championships is organised by Glasgow Life on behalf of The Royal Scottish Pipe Band Association and Glasgow City Council.
An event spokesman said there was a "great" atmosphere at the site, despite some morning rain.
Gordon Hamill, chairman of the Royal Scottish Pipe Band Association, said the event brings an economic boost to the city and the surrounding areas.
"I believe that somewhere between £10m and £11m is generated," he said.
"There's quite a few bands couldn't get accommodation in Glasgow so are going further out. There's quite a few staying over in the Stirling area and coming in.
"So it is not just the Glasgow area, it's all the parts around about Glasgow that are benefitting from it."