Cameron offers Commonwealth Games help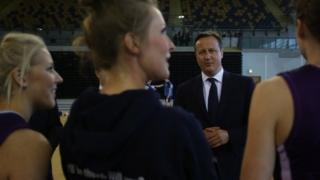 The prime minister is to hold a cabinet meeting in Scotland later this year to "take stock" of preparations for the 2014 Commonwealth Games in Glasgow.
David Cameron said he wanted to ensure both the UK government and the Scottish government did everything possible to deliver a safe and successful event.
During a visit to the city's Emirates Arena he described the Games as "a great window on to Scotland".
He said it was important to build legacy - especially inward investment.
"Later this year I'm going to be bringing the whole of the United Kingdom government cabinet to hold a cabinet meeting in Scotland," he said.
"I think that would be a good moment for the cabinet as a whole to take of stock of where we are with the Games and anything else we can do to help the Scottish government and the authorities around the Commonwealth Games to deliver a real success."
He added: "With less than a year to go things are looking up."
He said the UK government would team up with the Scottish government to host an inward investment conference to encourage businesses to "see the Games, see Scotland and come and invest".
Next year will also see Scots vote on the country's future in the independence referendum.
On 18 September 2014 they will be asked the single yes/no question: "Should Scotland be an independent country?"
Mr Cameron said that issue must be settled before any further devolution of powers to Holyrood could be considered.
He said: "What we have to do is to get a clear and decisive answer to the question the SNP have always wanted to put - do you want to break up the United Kingdom or do you want to stay in the United Kingdom?
"But I'm absolutely clear that if people choose to stay in the United Kingdom, as I hope Scotland will, that's not the end of the matter. Of course there are always opportunities to get the balance of powers right within the United Kingdom."