Lynda Spence killer Philip Wade to appeal conviction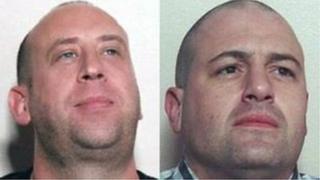 Both men jailed for life for murdering businesswoman Lynda Spence are now appealing against their convictions.
Philip Wade, 42, was told he must serve at least 30 years for killing the 27-year-old, who was last seen in Glasgow in 2011. Her body has never been found.
Wade is claiming prosecutors failed to make timely or full disclosure of Ms Spence's role as a police informant.
Colin Coats, 42, who was jailed for at least 33 years over the murder, lodged his appeal in June.
Miss Spence, from Glasgow, was abducted and held at a flat in West Kilbride, in Ayrshire, where she was tied to a chair, burned with an iron, had a thumb cut off and toes crushed.
'Monstrous and barbaric'
Wade had denied the murder but after he was convicted along with a co-accused Coats, the trial judge, Lord Pentland, told him that the crime was "truly monstrous and barbaric".
Wade has now launched an appeal against both his conviction and the sentence imposed on him.
Several of his proposed grounds of appeal against conviction were rejected at a sifting stage and his counsel Gary Allan QC argued unsuccessfully at the Court of Criminal Appeal in Edinburgh that they should be reinstated.
Mr Allan said: "In respect of each of these grounds it would be appropriate for the court to quash the conviction for murder."
He maintained that when taken together they amounted to a miscarriage of justice and that they were arguable.
Several of them related to the adequacy of the directions the judge gave to the jury at the end of the 12 week trial at the High Court in Glasgow.
Mr Allan said: "The case involved both a murder without a body and a murder which was not witnessed by any of the Crown witnesses."
He said the importance of alleged admissions made in the case could not be overstated.
During the trial, evidence was led of the disposal of a body in the Glasgow hills, at sea and by being cremated in a furnace.
'Conflicting admissions'
Mr Allan said in the circumstances there was an obligation to "spell out in the clearest terms" to a jury how they required to look at such admissions attributed to an accused person.
He said it should have been made clear how they should approach "a matter which involved apparently conflicting admissions and admissions which were mutually exclusive".
He told Lord Menzies, sitting with Lady Dorrian and Lord Glennie: "The disposal of a body is not evidence that the maker of the statement was responsible for her death.
"There was never, at any point, any admission by the appellant that he had been involved in killing the lady."
Although Wade's bid to have his full proposed grounds of appeal argued at a future hearing failed, he has remaining grounds challenging his conviction which have been allowed.
These include an alleged failure to adequately disclose to the defence Ms Spence's recruitment as a police intelligence source.
Shortly before she went missing, Ms Spence had been asked by the Scottish Crime and Drug Enforcement Agency (SCDEA) to become a covert human intelligence source which she had agreed to.
She was to provide intelligence on suspected criminals.
Wade's lawyers claim that the Crown failed to make timely or adequate disclosure to them that she had been recruited by the SCDEA and this caused significant prejudice to Wade's defence.
It is maintained there was material which supported the defence position that there were a number of possible perpetrators with substantial motives other than Wade.