Glasgow Central trains delayed by fire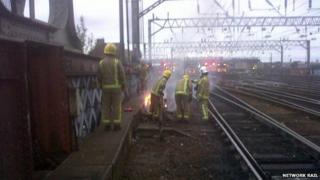 High-level trains from Glasgow Central were delayed after a line-side fire affected signalling equipment.
Track operator Network Rail said the blaze broke out at 05:30 on Wednesday.
The fire was extinguished quickly but subsequent high-level services were subject to cancellation and delay.
The disruption lasted until about 10:00. Scotland football fans travelling south for Wednesday's friendly with England at Wembley were among the passengers affected.
A spokeswoman for Network Rail said: "Just before 05:30 this morning a small fire was reported to be affecting signalling cable just outside of Glasgow Central Station causing points to fail.
"Emergency services arrived on site and the fire was extinguished but all services into Glasgow Central were suspended.
"Our engineers quickly attended the scene to isolate the fire damage and the issue was fully resolved by 06:30 allowing services to resume as normal, however, consequential delays have continued throughout the morning peak."