Muazim Shah jailed for life for Lynne Farquhar murder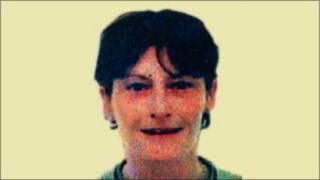 A man who was convicted for a second time of murdering a woman in East Renfrewshire has been jailed for life.
Muazim Shah, 35, is believed to have killed Lynne Farquhar, 47, at her home in Barrhead in September 2010 after she refused to give him drugs on credit.
His first conviction, in September 2011, was quashed after appeal judges ruled a jury had been misdirected.
At the High Court in Edinburgh, Shah was told he must serve at least 18 years before he can apply for parole.
Jailing Shah, judge Lord Kinclaven told him: "This was a brutal murder of a woman in her own house."
'Serious crime'
The judge said: "You robbed Lynne Farquhar of her life as well as her possessions.
"You have been convicted by the verdict of the jury of the most serious of crimes, the crime of murder."
Lord Kinclaven noted in passing sentence that Shah had a short list of previous convictions, but no history of violence.
The judge said Shah's crime involved the inflicting of blunt force injuries to the head and body of his victim and robbing her of items at her home.
Following Shah's first conviction, he was jailed for life and told that he must serve a minimum of 18 years in prison before being eligible for parole.
During the retrial, the High Court In Glasgow heard how Shah left his victim with a fractured skull, three broken ribs, a fractured larynx and multiple bruising to her head and neck.
The jury was told how he kicked and stamped on Ms Farquhar so hard, that he left a bloody footprint on her stomach and at her ear.
The prints matched a make of trainer - the Adidas Lin jogger - that Shah was captured on CCTV wearing on the day of the murder.
Detectives discovered his partner had bought him a pair of the shoes a few months before the attack.
Forensic evidence
Shah - previously jailed for six years for drug offences in England - denied owning such trainers.
His black Toyota Avensis - which he drove to Ms Farquhar's home that day - was found to have her DNA on the steering wheel and handbrake of the car.
Forensic experts were of the opinion this came from either skin or saliva.
Ms Farquhar's badly beaten body was discovered by her boyfriend.
Shah, formerly of Paisley, admitted to police that he had a heroin habit at the time and had been a customer of Ms Farquhar.
He said he had bought drugs from her on the day of the murder, but that she was alive when he last saw her and that "everything was normal".
In addition to the murder charge, Shah was also convicted of attempting to defeat the ends of justice by getting rid of clothing and shoes he had worn during the crime and disposing of a car mat from the vehicle he used to travel to and from the crime scene in a bid to destroy evidence.
He was also convicted of possessing heroin in the days leading up to the murder.
Lord Kinclaven backdated Shah's prison sentence to November 2010 when he was first taken into custody.