Joseph Townsley denies Frank Baxter lorry death murder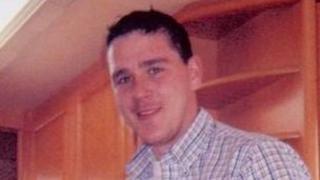 A man has gone on trial charged with murdering a young father by running him down with a lorry in North Lanarkshire.
Joseph Townsley, 62, is accused of killing 23-year-old Frank Baxter in Newmains, Wishaw, on 8 May last year.
He is also accused of attempting to murder 31-year-old Alexander Minto during the same incident.
Mr Townsley, from Bogside, near Wishaw, denies all charges against him. The trial before Judge Lady Wise at the High Court in Livingston continues.
Mr Baxter was a landscape gardener from Scotland's travelling community.
The accused is alleged to have driven into a garden on Crindledyke Crescent, the street where Mr Baxter lived, and struck him, causing his head to hit the wall of a house or the ground.
Mr Townsley also denies previously "evincing malice and ill will" towards the 23-year-old.
Security guards
He faces a separate allegation that he threatened Mr Baxter with violence six days before the alleged murder and brandished a baseball bat or similar item at him.
Mr Townsley also pleads not guilty to severely injuring Alexander Minto to his permanent impairment and permanent disfigurement while allegedly attempting to murder him with the lorry.
He also denies a further charge that he attempted to defeat the ends of justice by fleeing the scene and abandoning the lorry in nearby Newmains.
Tight security was in place for the start of the trial.
Everyone entering West Lothian Civic Centre, where the court shares premises with West Lothian Council and Police Scotland, was searched for weapons by private security guards.
More than a dozen police officers were also deployed to guard the court complex.