Gang uses 4x4 to steal cash machine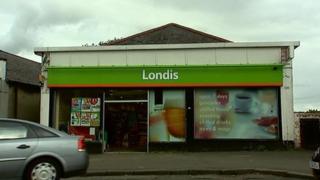 A gang of thieves has stolen a cash machine containing a five-figure sum of money from a Glasgow shop.
They used a 4x4 vehicle to pull the freestanding machine out of a Londis convenience store in Baldwin Avenue, in the Knightswood area.
The incident, which was captured on CCTV, happened at about 04:20.
The suspects, all male and wearing dark coloured clothing, escaped in the vehicle in the direction of Blairdardie.
Police have appealed for witnesses who may have seen the robbers' vehicle on the pavement.
Det Con Katy Fanning, of the Greater Glasgow Robbery Unit, said: "Thankfully no one was hurt, however there has been considerable damage to the front of the store.
"It would appear from local CCTV that the 4x4 - which was a dark colour - was used in the incident and pulled the ATM from the store and through the front of the shop.
"This was not random. It was a pre-planned attack on the store to get at the ATM.
"It is possible that those responsible may have been checking the store prior to the break-in and so, I would appeal to anyone who saw people acting suspiciously in the area, maybe a couple of days prior to the incident, to contact police."
She added that the CCTV images showed there had been a number of cars passing at the time that would have seen the 4x4 mount the pavement on several occasions.
There would also have been considerable noise made by the suspects and the car, she said.