Samantha Glancy sentenced for glassing James Hurrell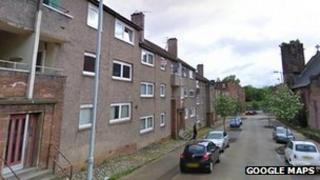 A 19-year-old woman who admitted glassing a neighbour in Inverclyde has been given a community payback order.
Samantha Glancy attacked James Hurrell in the close at her block of flats in Port Glasgow in June of last year.
She was charged with attempted murder after the victim suffered a collapsed lung, but later pleaded guilty to the reduced charge of assault.
Glancy was told she must carry out 100 hours of unpaid work and faces being supervised for 18 months.
At the High Court in Edinburgh, judge Lady Wise told Glancy: "Such a vicious attack would normally attract a custodial sentence."
'Unacceptable episode'
The judge said: "You have pled guilty to a serious attack with a piece of glass on a man in the common close where you live."
"It was a completely unacceptable episode."
The judge imposed a community payback order after noting that Glancy was a young woman with possible opportunities for further education.
A previous hearing at the High Court in Glasgow heard that the attack happened at flats in the town's Montgomerie Street, where Glancy stayed with relatives.
Mr Hurrell had been living with friend Alex Dunlop in a flat opposite.
Flats disturbance
The court heard the men got into a row and Mr Dunlop told Mr Hurrell in the early hours to get out.
A disturbance broke out in the close and Mr Hurrell started banging at Glancy's door.
Glancy and Mr Hurrell were then involved in an altercation before the teenager grabbed a piece of glass and struck her victim.
Mr Hurrell was taken to hospital having suffered a collapsed lung, before being released after treatment.
Glancy was detained by police and said Mr Hurrell punched her and that she may have hit him back.