Two men dead and one injured in Auldhouse farm shooting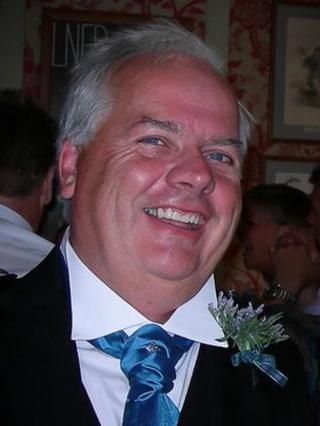 Two men have died and another has been injured in a shooting at a farm and equestrian centre in South Lanarkshire.
Police were called to Meadowhead Farm and Stables in Auldhouse, south of East Kilbride, at 08:10 on Tuesday.
A 59-year-old man was found dead at the scene. The body of a 53-year-old man was found in a nearby car.
The older man is believed to be Peter Thompson, who owned the farm business. His 36-year-old son was found a short distance away with leg wounds.
He has been named locally as John Thompson.
The 53-year-old man is understood to be Robert McCormick, who was a registered firearms owner.
He is not related to the other two men involved in the incident. Police would not say whether he had taken his own life.
Police said no-one else was being sought over the incident and there was no danger to the public in the area.
At a news conference, officers confirmed that the 36-year-old man had driven to the nearby Auldhouse Arms pub following the shooting.
He was being treated in hospital for gunshot wounds to his legs.
Supt Elaine Ferguson said: "At ten past eight this morning Police Scotland received a call from ambulance control.
"They had a report of a male having been shot in Meadowhead Farm in the East Kilbride area.
"Specialist firearms resources attended, backed up by local officers and we can confirm that a male aged 59 and a male aged 53 have been fatally injured.
"A 36-year-old man is currently in hospital being treated."
Officers also revealed that they were investigating a linked incident several miles away in the Clarkston area of East Renfrewshire.
Supt Ferguson: "When we were dealing with this incident we received information that led us to the Clarkston area.
"We deployed further resources and a male is now a witness in relation to the first incident although he wasn't at the farm at the time.
"We are not looking for anybody else in relation to this incident and all the firearms are contained to that farm and there is no danger to the public."
Ms Ferguson added: "The scene has now been handed over to the CID officers. They have attended there with a number of other specialist resources."