James Toner arrives home after 'legal limbo' in India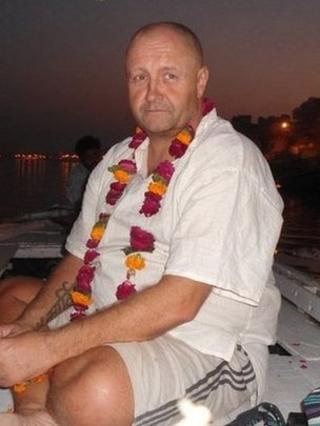 A Scot has described his four years stranded in India after being wrongly arrested on drug dealing charges.
James Toner, from Glasgow, was arrested in Goa in May 2009 and accused of possessing 2.5kg of cannabis.
He was released on bail the following year and police officers involved in the case have been charged with drug-related corruption.
But Mr Toner was only given permission to leave India in the past few days. He arrived home in Glasgow on Wednesday.
Mr Toner, from the Castlemilk area, had always denied being involved in cannabis dealing, but has admitted having a small quantity of the drug for his personal use.
Speaking from his mother's home, he told BBC Radio's Good Morning Scotland programme that it felt as though his ordeal had lasted forever.
"If I hadn't went out that morning to buy some hash I wouldn't have been arrested - simple as that," he said.
"But I don't think that justifies four years away from my family.
"I had more rights the year I was in prison than the three years I was on bail."
He has claimed police officers asked him for $10,000 - almost £6,500 - to make the case against him go away.
He was held in prison for eleven months before being released because the main police witness had been suspended from duty as part of a long-running investigation into corruption in Goa's drugs squad.
Since then he has had to attend more than 80 court appearances.
Even when the charges against Mr Toner were dismissed, there was a lengthy wait to see if the prosecution would lodge an appeal.
His passport was seized by the authorities, and he was barred from working in Goa - so had to rely on friends back in the UK to send him money.
He has previously said he travelled to India to "find himself" after suffering depression that he believes was caused by the death of his brother, Martin, who was murdered in Glasgow in 2004.
Mr Toner, who has a 15-year-old son, said he would now have to rebuild his life.
"It's starting from scratch," he said.
"I don't have anything. I don't even have clothes that fit me anymore.
"I'm really happy to be back, but it's with a bit of trepidation as well - just because I've not been here for so long."