Plant blamed for fly plague faces new sanctions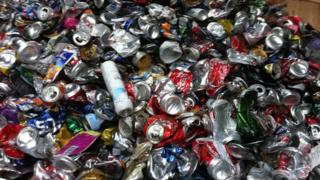 A Grangemouth recycling plant that has been blamed for a plague of flies in local homes is facing a new enforcement notice from the government agency Sepa.
Residents of Abbotsinch Road and Duke Street said the infestation had made their lives a nightmare.
Operators Oran Environmental Solutions blamed a build up of waste while new processing equipment was installed.
CEO Tom Gleeson said the backlog had now been cleared and claimed the situation had improved dramatically.
The facility handles waste from domestic and business recycling bins, and uses a mixture of manual sorting and hi-tech equipment.
"We have to pick out other things that shouldn't be there", Tom Gleeson told BBC radio's Good Morning Scotland programme.
"You'd be surprised what comes through in these bins.
"Black bag rubbish, nappies, food, rubble, metal, frying pans, bits of timber.
"But they're no good to this plant, and we have to pick them out."
The aim is to separate material that has to go to landfill from items that can be re-used and re-sold.
"The good quality we're looking for is your milk cartons that have been washed out at home; we're looking for your Coke and Irn-Bru bottles; the aluminium cans and the ferrous cans", Mr Gleeson explained.
There is also a market for paper, cardboard, and the large sheets of plastic film used to wrap pallets of goods for transport.
The facility does not compost food waste or other organic material.
However, people who live locally have said it is responsible for huge numbers of flies in their houses, especially when it has been warm.
One woman described having to leave doors open while she re-painted her kitchen, and said her daughter had to kill 54 flies in one go, in the space of 10 minutes.
Another said: "On a bad day, mealtimes are really hard. You're trying to cook but everything has got to get kept covered.
"Or you're trying to dish a meal up, and you've got to try and cover plates as you're going.
"You've got children standing over you swatting, to make sure that no flies land on their dinner."
Those concerns led residents to stage a protest outside the plant, demanding what they called a "no fly zone".
Tom Gleeson said he would not deny that waste could attract flies.
He said: "But, I don't believe that this facility is solely to blame for all of the flies that are bothering the residents.
"Material coming in is immediately treated to kill flies that are coming in on the bins.
"And a state of the art facility, a £2.6mt investment, has been put in to this facility. We wouldn't be doing that to upset our neighbours."
But it is not just the neighbours who have been upset.
The Scottish Environment Protection Agency (Sepa) has made 43 site inspections, and issued seven enforcement notices, since April last year.
The most recent requires improvements in pest control, and a deep clean of the whole plant.
A Sepa spokesman said: "We appreciate the frustrations of the local community and have been working hard to resolve the issue since it was first brought to our attention.
"We have also served two partial suspension notices, suspending the company's ability to accept waste, and modified the operator's waste management licence in order to secure compliance.
"The operator has generally met the conditions of such notices and complied with the most recent notice served earlier this month."
Tom Gleeson blamed the most recent problems on a build-up of waste which accumulated while the new processing equipment was being installed.
But, he said, the plant had been fully up and running for the past six weeks, and a new spraying regime had been implemented.
The Scottish government has set out the goal of making Scotland a zero waste country.