'Stuck in turnstile' fat Celtic fan named top slimmer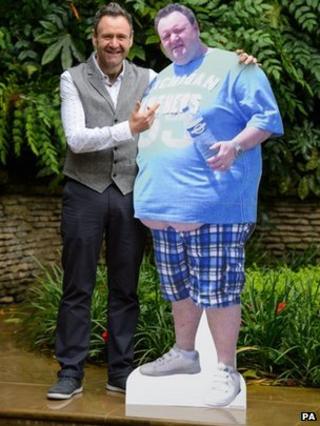 A Celtic fan who lost more than 17 stone after getting stuck in a turnstile has been named "Slimming World Man of the Year 2013".
Thomas McIntyre, from Larne, Northern Ireland, ended up using the disabled gates at stadiums after the incident at Partick Thistle's Firhill ground.
The 43-year-old, who is 6ft tall, was a size 8XL, weighed more than 31 stone, and had a 74 inch waist.
He slimmed down to a medium-size 13 stone 6lb over fears about his health.
Mr McIntyre, a fresh food manager at Dunnes Stores, said he was "loving every day" of life since he slimmed down.
Family wish
He said: "I wish I had done it years ago. I honestly do. But your life's your life, you can't turn it back."
Mr McIntyre and his wife Claire now want to have children, and hope that his weight loss and improved wellbeing will make that possible.
"We'd love to start a family, and the great thing about it is if I am blessed I'll be able to be a good dad.
"I'll be able to be the dad that can take them camping, can go out and play football, can ride a bike.
"Whereas before I would have just had to have sat on the sidelines and look on.
"Now I can just grasp it, and enjoy it, and be the dad that my father was to me, which would be the greatest gift I could give because it's a great gift that was given to me," he said.
Mr McIntyre had been overweight for more than two decades, since giving up playing football in his early 20s without quitting the junk food his active lifestyle had allowed him to indulge in.
He grew in size steadily and in the run up to his wedding five years ago he became so worried about his increasing weight that he secretly purchased a bigger, back-up suit - it was an 8XL.
Mr McIntyre's weight also left him on medication for a range of health concerns including high blood pressure, breathing problems and fluid retention.
In February last year a friend confided in him about how worried she was about his weight and asked him to come to their local Slimming World group with her.
Over the next year his waist size dropped by 40 inches to 34 inches.
Mr McIntyre added: "I can fit through the turnstiles when I go to the football now so there's no embarrassment there, in fact, that's the only downside to my weight loss because I have to queue with everyone else."