Garry Kane loses appeal bid over Kathleen Milward murder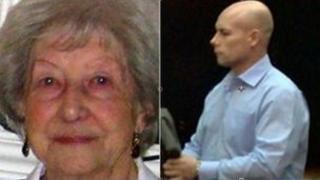 A heroin addict who was jailed for life for murdering his grandmother at her home in South Lanarkshire has failed in a bid to overturn his conviction.
Garry Kane, 41, attacked Kathleen Milward, 87, in Stonehouse on 3 January 2012, inflicting 15 head and neck injuries from "blunt force trauma".
He was told that he must serve a minimum of 17 years in prison.
Judges have now rejected his appeal - without it even getting as far as a hearing in open court.
Kane had lodged an appeal which was being checked first by a single judge, then by two judges in chambers under a system aimed at weeding out hopeless appeals without wasting court time.
He may still mount a legal challenge to their decision.
During Kane's trial, the High Court in Glasgow heard how he had left home at 18 or 19 and had served in the army and lived in England.
He returned to Scotland in 2007 and lived with his mother at first, but she threw him out after he became a drug addict and stole items from her home.
Kane later went to live with Mrs Milward, where he was staying at the time he killed her.