Michael Beuckmann jailed for Evan Mulrine murder bid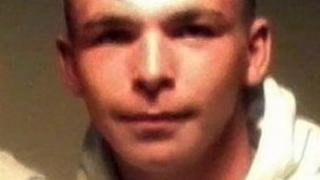 A man who admitted attempting to murder a teenager in what was described by a judge as a "monstrous attack" has been jailed for five years and four months.
Michael Beuckmann, 20, punched, kicked and stamped on 16-year-old Evan Mulrine in Glasgow's Crosshill area on 16 February this year.
Co-accused Corrie McLaren, 20, and Dylan Stewart, 19, admitted to a charge of assault over their involvement.
At the High Court in Edinburgh, they were each jailed for 14 months.
Jailing Beuckmann, judge Lord Turnbull told him: "You perpetrated a monstrous attack on this young boy with horrendous consequences for him."
'Cowardly offence'
Mr Mulrine described the sentences as "absolutely disgraceful".
On a social network chat site, the teenager added: "Less than 10 years between them and I have to deal with what happened forever. Not acceptable - I'm going to appeal the sentence if I can."
He also stated that he "thought he would now be able to walk the streets without being paranoid for at least a few years."
Passing sentence, Lord Turnbull told Beuckmann he would have faced a sentence of eight years detention, but it would be restricted following his guilty plea.
Jailing McLaren and Stewart, the judge told the pair: "It was indeed a cowardly and disgraceful offence."
An earlier hearing at the High Court in Glasgow was told how how Mr Mulrine, who was described as a "small, skinny and quiet boy", had been out with friends in the city's Victoria Road area on the evening of 16 February.
Beuckmann, McLaren and Stewart later joined the group. Mr Mulrine did not know them, but some of his friends did.
Later in the night, the teenager found himself alone with the trio.
One of them offered Mr Mulrine a cigarette and he followed them to a back court area in Prince Edward Street.
Within seconds, Beuckmann attacked the teenager, repeatedly punching him on the face.
McLaren and Stewart then joined in the attack before the latter raced off with the victim's rucksack.
'Horrible' assault
Beuckmann continued to assault the schoolboy, who was then kicked and stamped upon until he was unconscious.
The court heard how Mr Mulrine pleaded for Beuckmann to stop and how one resident who witnessed the attack described it as "horrible to watch".
Beuckmann fled before witnesses dialled 999 and he later boasted to a friend at the hostel where he was staying: "Can't believe what happened last night. Heavy smashed some boy - jumped all over his nut."
A badly hurt Mr Mulrine - who had footwear marks all over his face and neck - was taken to the city's Victoria Infirmary where doctors were concerned about a spinal injury and bleeding on his brain.
He also had multiple fractures to his nose and face and required surgery for a damaged cheekbone and had a plate inserted at his eye socket.
The teenager was eventually released from hospital on 6 March, but later need to attend a specialist head injury rehabilitation service.
The court was told that without medical help he would have died.