US sci-fi series Outlander to be filmed in Scotland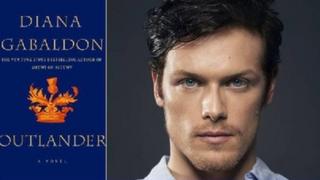 A major US science fiction series is to be filmed in Scotland, bringing about 200 new jobs and the construction of a new television studio near Glasgow.
Outlander will be adapted from American writer Diana Gabaldon's international best-selling series of seven books.
It tells the story of Claire and James Fraser, using time travel to slip between 18th and 20th century Scotland.
One of the lead roles will be played by Scots actor Sam Heughan, whose previous credits include River City.
The 32-year-old, who was born in New Galloway, Dumfriesshire, graduated from The Royal Scottish Academy of Music and Drama, now known as the Royal Conservatoire of Scotland.
Supporting roles
He has also starred in TV series Doctors and appeared in an episode of Rebus.
It is estimated that Outlander could generate as many as 2,400 supporting roles for other actors across the UK.
US cable network Starz and global television studio, Sony Pictures Television, are behind the new series, which is due to start filming this year.
The series will be written and executive produced by Jim Kohlberg and Ronal D. Moore, who has worked on Battlestar Galactica, Star Trek: Deep Space Nine and Star Trek: The Next Generation.
It will be co-produced by Left Bank Pictures, Tall Ship Productions, Story Mining and Supply Company.
The Chancellor of the Exchequer, George Osborne, said the production would benefit from a UK government decision last year to extend film tax reliefs to high-end television productions.
This effectively provides a tax credit worth 20% of corporation tax.
Mr Osborne said: "I am delighted that Outlander will be filmed in Scotland, and welcome the extra investment that will be made to the Scottish television industry.
"I hope that this series will make the most of the stunning landscape and the talented actors, crew and facilities that Scotland has to offer."