Sharkey trial: 'No evidence' against fire death accused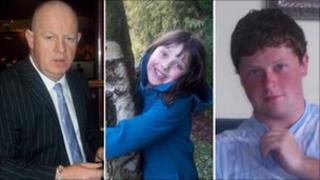 The jury in the Sharkey fire deaths trial has been told that there is not a "jot of real evidence" to convict one of the murder accused, Scott Snowden.
His QC, Donald Findlay, also said that many of the Crown witnesses were "self-serving liars who would trample over their granny if it suited them".
Mr Findlay was continuing his closing speech at the High Court in Glasgow.
Mr Snowden and Robert Jennings deny murdering three members of the Sharkey family by torching their home.
Thomas Jnr, 21, and Bridget, eight, died in the blaze at their home in Scott Court, Helensburgh, on 24 July 2011. Their father, Thomas Snr, 55, died in hospital days later.
Both Mr Jennings, 50, and Mr Snowden, 37, also deny a charge of attempting to murder Mr Sharkey's wife, Angela, 48, who survived the fire, and a number of other separate charges.
No answer
Prosecutor Alex Prentice QC concluded his closing speech on Wednesday before Mr Findlay began.
The QC addressed the jury of 10 women and five men for a second day.
He will be followed by Ian Duguid QC, who is acting for Mr Jennings.
Mr Findlay told the jury: "Where is one solitary jot of real evidence incriminating Mr Snowden. I'd need to stand here in silence for a long time for the answer because there isn't any."
Mr Findlay added:"There is not a single piece of CCTV that shows Mr Snowden doing anything which shows him having any interest in the things he is charged with."
The QC told the jury that police carried out covert surveillance of Mr Snowden and got no incriminating information from him.
Mr Findlay said: "If you are being monitored 24-hours-a-day and seven-days-a-week every single word is monitored and all this time Mr Snowden who, according to Crown witnesses can't help saying things, does not say a word to suggest he is involved in the commission of a crime."
The QC said accused many of the Crown witnesses of being untruthful and described them as "a bunch of self-serving liars who would trample over their granny if it suited them."
He also described the wider Sharkey family as dysfunctional and accused the prosecution of trying to Tippex out the bad bits in their backgrounds.
The trial before Lord Matthews continues.