Child poverty 'costs Glasgow £395m'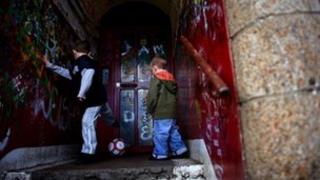 Child poverty costs Scotland's largest council £395m a year, a new report has claimed.
Researchers said the impact of the problem in the Glasgow City Council area was the third highest in the UK.
The cost of child poverty was said to be highest in Birmingham, at an estimated £914m a year, followed by Manchester at £446m.
An estimated 36,367 children in Glasgow live below the poverty line, according to the research.
The study was carried out on behalf of the Child Poverty Action Group (CPAG).
'Childcare barriers'
It commissioned experts at Loughborough University, who had already estimated the national cost of child poverty, to produce a breakdown of its financial impact on every local authority in the UK.
The research put the cost of the problem in the Edinburgh City Council area at £156m a year, with the impact in Fife said to be slightly higher at £158m.
In North Lanarkshire, child poverty was estimated to cost the council £170m but in Perth and Kinross it was £33m and in Stirling it was calculated to be £26m.
In both Orkney and Shetland, the cost was said to be just £4m a year.
Statistics from the Scottish government last month revealed 710,000 people north of the border - including 150,000 children - were living in relative poverty in 2011-12.
John Dickie, head CPAG in Scotland, urged councils to do everything they could to "protect families in their area from poverty".
He said: "It is vital that local authorities do all within their powers to protect families in their area against poverty by, for example, removing childcare barriers to work, ensuring families have access to benefits and tax credits advice, and investing in reducing the costs families face by extending free school meals and increasing school clothing grants."
Mr Dickie added: "The good news is that reducing child poverty benefits everyone by cutting the costs to local authority services and boosting the local economy, but many people will be shocked to hear that so many children in every local area in Scotland are living in poverty."
A spokesman for Glasgow City Council said it was "not clear from the report how figures about projected costs were arrived at".
But he stressed child poverty was "well recognised by the council" and said: "Improvements are being made to the lives of those most affected by deprivation."
The spokesman added: "A wide range of initiatives is being undertaken to support children and families in Glasgow, and many of the recommendations in the report, such as a living wage, have already been introduced by the council.
"We are committed to tackling poverty and health inequalities and through our long-term strategy of focusing on jobs and the economy, targeted support for the vulnerable, the early years and education, we hope to bring lasting change to the city."
'Significant impact'
Across the UK, child poverty is said to cost £29bn a year, including £15bn spent on services to deal with the consequences of the problem.
A further £3.5bn is lost from tax receipts from people earning less as a result of having grown up in poverty, £2bn on benefits for people spending more time out of work as a result of having grown up in poverty and £8.5bn lost from people's earnings as a result of having grown up in poverty.
A Scottish government spokeswoman said it was "doing all it can with the powers it has" to address social inequality.
The 2011-12 figures showed a fall in the number of children in poverty in Scotland, but the spokeswoman stated there was "no room for complacency", adding that "changes introduced since then through the UK government's cuts to capital budgets and welfare reform agenda threaten to have a significant impact on Scotland's children".